Dark SpotsTreatment with Cosmelan®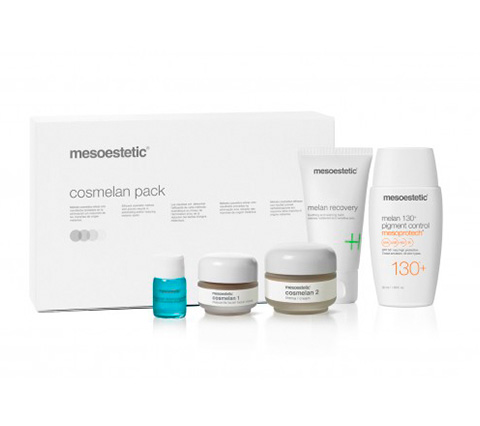 Cosmelan® is an exclusive professional depigmentation system to eliminate or attenuate the spots that appear on the skin, helping it to restore uniformity in its tone and luminosity.
Cutaneous hyperpigmentations are alterations in the production of melanin, the substance responsible for skin coloration. By presenting a localized and uncontrolled overproduction of melanin within the melanocyte, it produces an irregular coloration on the skin, giving way to the stain.
Regardless of the type and color of the skin, this condition has become a worldwide problem that has increased by 90% in the adult population over 50 years of age, causing serious aesthetic, psycho-emotional effects and altering the lifestyle of those who treat it. suffers.
This treatment consists of a series of sessions that are developed in phases:
Intensive Depigmentation: the professional applies the Cosmelan 1 mask, which is a cream that contains a high concentration of active ingredients that exerts an intense depigmenting action. At the expert's discretion, it is allowed to act between 8 to 12 hours. After that time the patient at home removes the mask with plenty of warm water.
Continuous Depigmentation: 48 hours after removing the mask, you should apply Cosmelan 2 three times a day, for a period of one month, followed by hydra-vital factor k, and moisturizing sun protection SPF 50+, in order to complement the corrective spotting action and normalize melanin production.
Regulation of Repigmentation: in order to act on the origin of the imperfection, during the second and third month carry out an intra and intercellular control of melanin production, for this you must apply two times a day cosmelan 2 and then finish with hydra-vital factor k, and moisturizing sun protection SPF 50+. In case of sun exposure, reapply protection at noon.
Reappearance Control: in this revision phase, which runs from the 4th to the 7th month, it seeks to prevent the reappearance of the spots already treated and to avoid the appearance of new ones. In this sense, you should apply Cosmelan 2 every night accompanied by hydra-vital factor k. While during the day you should use moisturizing sun protection SPF 50+.
If you observe any variation in the color of your skin and want to eliminate or attenuate any type of stain, you should know that Cosmelan® is one of the treatments that has more than a million patients satisfied with its evident therapeutic results and will restore your skin to its natural hue and radiance. Do not wait more! Schedule an appointment by calling the
+57 1 7953782
or filling out the contact form on this page.