Rosacea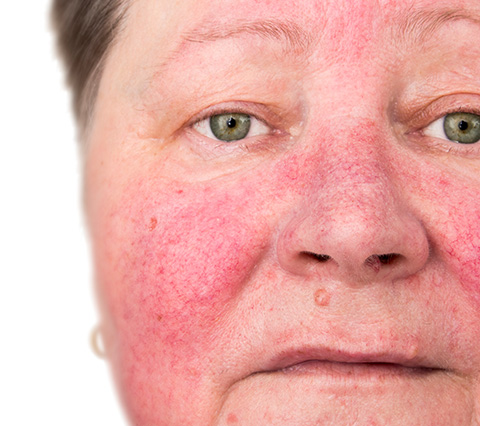 Rosacea is a chronic disease where the central part of the face turns red, especially the nose, cheeks, chin and forehead. This redness occurs due to inflammation of the blood vessels, this condition can be related to skin disorders such as acne and seborrhea (oily skin).
In addition to redness on the face, the patient may also have acne-like lesions, a burning or itchy sensation on the face, irritated eyes or a thick nose, among others. It is more common to happen in fair skinned women and after 30 years of age. Despite the fact that there is no single and definitive cure for rosacea, clinical dermatologists, after examining the patient by consultation, will be able to devise a strategy with various treatments and recommendations to reduce the effects of the disease.
If you have the aforementioned symptoms, we recommend that you go to a dematologist consultation as soon as possible. Dr. Luis F. Gonzalez is a dermatologist with extensive studies and knowledge to treat this disease. Schedule an appointment with us today by calling the
+57 1 7953782
or filling out the form below.